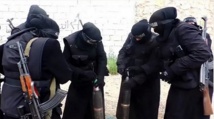 The question of what countries should do with their citizens who joined the extremist militia has come to the forefront as the group appears on the verge of total defeat in Syria.
"I have absolutely no sympathy for them and they are undesirable in Denmark," Danish Justice Minister Soren Pape Poulsen said on Thursday, according to the Ritzau news agency.
"But this is a complex problem. There are no perfect or simple solutions. The fact is that we cannot refuse Danish citizens from coming back to Denmark," he said.
According to authorities, since 2012 about 150 people from Denmark have travelled to Syria or Iraq to join extremist groups.
The US has spearheaded a call for nations around the world to take back citizens who became foreign fighters or supporters within the Islamic State group's structures.
Many have been captured by the Kurdish-led Syrian Democratic Forces as Islamic State collapses.
President Donald Trump is demanding that the EU take back 800 of its Islamic State fighters that have been captured.
The US State Department said on Wednesday it would not repatriate a woman born in the US who left Alabama to join the Islamic State in Syria some four years ago.
In Britain, there is fierce debate over whether 19-year-old Shamima Begum should be allowed back in. She left London as a schoolgirl in 2015 to join Islamic State, but now wants to return because her newborn baby would have a better future in Britain.
Notepad