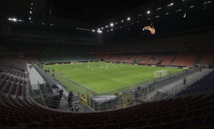 "The cup final is and will be a celebration of Danish football," Jakob Jensen, chief executive of the DBU said.
He thanked the government and political parties for agreeing to allow more spectators.
The July 1 cup final will be played in Esbjerg, neutral ground for the two sides. The number of spectators allowed would be announced in the coming days and the ticket quota would be divided equally between the clubs.
Joy Mogensen, minister of culture, said the cup final was "very special," adding she was "delighted that fans from both teams can help to provide atmosphere and cheer on the players."
The current limit for spectators who are seated is 500, while public gatherings are limited to 50 people, but the government has announced further easing of restrictions on public gatherings introduced over the coronavirus pandemic.
Three matches in the Super League have recently been played with over 500 spectators, and were being evaluated by the authorities.
A fixture between capital city rivals Brondby and Copenhagen drew 3,000 fans.
Notepad