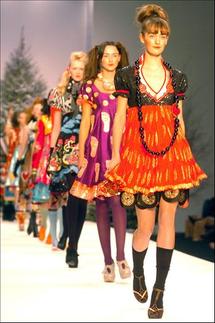 Actress Sienna Miller's collection with her sister Savannah, Twenty8Twelve, also made its London Fashion Week debut with a funky if unadventurous line.
Under the soaring rafters of the Royal Opera House in Covent Garden, Farhi created 1940s silhouettes in modern sheer metallic printed chiffon and wove classic tweeds with a rainbow of colours.
Elegant lines of pencil skirts and high waists were offset by strong and pronounced sleeves and arms -- and by the range of fabrics that included metallic grey leather and almost-reflective metallic bolero jackets.
"This collection is glamorous and quirky without taking itself too seriously," said Farhi, who is French but has lived in London for years.
Earlier, Jackson produced a mix of elegant tweeds, angora knits, wool and velvet in classic shapes in a varied palette.
She has shown here since the first London Fashion Week 25 years ago, displaying her first catwalk show in a car park.
Jaeger London, the younger, hipper version of the venerable British label, offered a sharply tailored collection dominated by monochromatic layers and banded appliqued stripes in black and cream.
"I'm very excited to see tailoring make a comeback," said the label's head of design, Karen Boyd, adding that it was now about finding "new ways with separates and layers".
The waists were high and the shoulders defined, while contrasting materials brought definition, with black patent leather stripes laid across fur and sexy outfits given a playful edge with shaggy sheepskin shrugs.
It was not so much playful as utterly joyful at PPQ, which managed to move past the organisational mess of the catwalk show location inside the narrow 18th century Burlington shopping arcade with a collection of vibrant pieces.
There were full-length and tight fitting jersey dresses in orange and black stripes, brightly coloured mini dresses with layers of ruffles, and geranium red satin hotpants matched with tights and polo-neck in the same colour.
Eley Kishimoto meanwhile took inspiration from the bright and breezy uniforms of airline crews for their show "Jet Set Masala", with checked and diamond print structured jackets and skirts with matching hats.
There were rich wools in bold blue, purple and red, followed by bright graphic prints in orange and yellow and suggesting snakeskin and tiger skin, as well as soft overlayed with velvets belts and hats.
Twenty8Twelve played it safer with their new collection, but still produced a punky line of wearable clothes that included trench-style boleros, cropped leather jackets, skin-tight denim leggings and denim hotpants styled with flowing white shirts and waistcoasts.