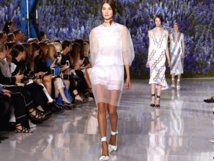 Simons took the house creator's classic lines further showing off cropped sweaters with scalloped edges and delicately undulating sleeves, satin parkas with stunning embroidery and peekaboo but prim ivory lingerie under organdy gowns.
"I wanted the collection to have a certain purity," Simons said in a statement.
"I wanted to express an idea of femininity, fragility and sensitivity without sacrificing strength and impact," he said.
"A collection that is simplified to the extreme, focussed on a single directing line which at the same time evokes feminity, fragility and sensibility."
Pastel shades abounded and the models -- led by house favourite Sodia Mechetner -- had minimum make-up in line with Simons avowed objective of purity.
There was also a new version of the Bar, Dior's iconic and form hugging jacket with pleats at the back, and masculine tailoring in some trousers and shorts.
Actress Chiara Mastroianni, the daughter of screen legends Marcello Mastroianni and Catherine Deneuve, gushed praise after the show.
"I found it very beautiful, very romantic. This romanticism and this softness is very unexpected today," she said.
At Issey Miyake's show in the nearby Tuileries Gardens, pleating -- the maison's speciality -- took on a new twist being made with baked fabrics that bounce and bob to create an optical feast.
The tropics-inspired collection was awash with a riot of colours with stripes and squares and raffia dresses.
At Isabel Marant, exoticism abounded with Berber blouses, harem trousers, tunics with billowing sleeves and silver lame pants and short skirts.