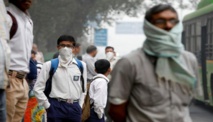 Frank Hans Dannenberg Castellanos, the dean of the diplomatic corps, scheduled a meeting with the External Affairs Ministry to convey the grievances of envoys who wanted to know measures the government was taking to deal with the situation.
Castellanos, the ambassador for the Dominican Republic, said he had been approached by many counterparts over the issue.
"Diplomats are concerned about their health and upset about the situation in recent days. We are also worried about our nationals and tourists coming to the city," Castellanos told dpa.
"We we will understand as well as discuss possible suggestions and solutions to the pollution problem at the meeting."
"I know its not an issue for the External Affairs Ministry to find a solution to, but we need to know what the government is doing. Pollution affects not only diplomatic community but everyone in the city," he added.
Broadcaster NDTV reported the Costa Rican ambassador Mariela Cruz Alvarez had left Delhi for the southern city of Bangalore after her "lungs collapsed from heavy pollution" and she was "choking to death".
Air quality in the city had slightly improved from the "severe" levels seen since November 8 to "very poor" in the past two days, but is still regarded as extremely unhealthy, readings by the Central Pollution Control Board showed.
Delhi, a city with a population of 19 million, has been ranked among the top polluted cities in the world in recent years.