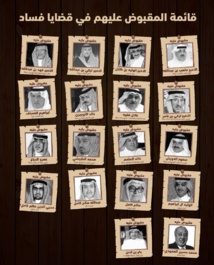 Prince Alwaleed bin Talal, a business tycoon who has extensive investment in Western companies, was among 11 royals and 38 ex-officials detained in the sweep, according to the report.
Other detainees include ex-finance minister Ibrahim al-Assaf and ex-head of the royal court Khaled al-Tuwaijri, the same report claimed.
Three former state officials, who were sacked on Saturday, were also reportedly among those detained in the crackdown.
There was no official confirmation.
The alleged arrests were made Saturday night after Saudi King Salman ordered the creation of an anti-corruption committee headed by his son, Crown Prince Mohammed.
The monarch has given the agency wide powers, including issuance of arrest warrants, asset freezes and travel bans.
Mohammed, 32, is seen as the driving force behind opening up the ultra-conservative country to the outside world and weaning its economy off oil.
The powerful crown prince has recently vowed to relentlessly fight corruption in Saudi Arabia, the world's top oil exporter.