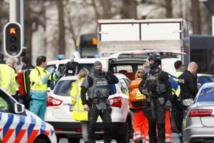 According to Dutch TV, investigators are talking to the brother of 37-year-old Gokmen Tanis, who is still on the run. He is suspected of having opened fire on passengers on a tram.
Police have so far confirmed three dead and five injured.
Turkish news agency Anadolu reported, citing unnamed relatives of Tanis, that he shot at a woman on the tram because of a family issue. He later opened fire on people who were trying to help the victim.
Dutch authorities have so far not commented on this report.
Broadcaster NOS reported that the suspect has a long rap sheet. Among other crimes, he was convicted of attempted murder. Currently he is a defendant in a rape trial.