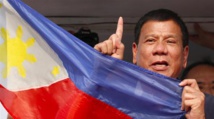 The Facebook live video was recorded on Monday night by special adviser to the president Secretary Christopher Go.
Go and other top aides of Duterte denied a post by communist rebel leader Jose Maria Sison that Duterte had reportedly been in a coma since Sunday.
Sison said he had information that Duterte's "walk and handshake had become more unstable" during an event on Saturday.
But the 73-year-old leader said he was healthy and even having dinner with a "beautiful lady."
"You are the one who's (...) comatose. You're the one who's sick," he said in the video. "If you think that you're sick, come home and I'll bring you to a place. It's called Bilibid (referrring to the national penitentiary)."
Sison has lived in The Netherlands in self-imposed exile since 1987.
Duterte claimed that the Netherlands has been complaining that Sison has been in and out of hospital but has not been paying his bills.
"You're not paying and you're abusing the hospitality of the Netherlands," he added.
Duterte has been dogged by rumours about his health since he became president in 2016. Last month, he was reportedly rushed to hospital after throwing up blood while on a visit to Malaysia.
He has shot down any calls for his administration to release a regular medical bulletin about his health.