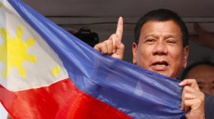 Duterte signed a proclamation ending the peace talks with the rebel Communist Party of the Philippines (CPP), said presidential spokesman Harry Roque.
The president also directed government peace negotiators to cancel all meetings with their guerrilla counterparts, Roque said in a statement.
"While we agreed to resume peace talks with (the communist rebels) and exerted our best efforts to accelerate the signing and implementation of the final peace agreement, (they have) engaged in acts of violence and hostilities," he said.
"We find it unfortunate that their members have failed to show their sincerity and commitment in pursuing genuine and meaningful peaceful negotiations," he added.
Last weekend, Duterte said he plans to follow the lead of the United States in declaring the CPP and its armed wing, the New People's Army (NPA), as terrorist groups and not legal entities or legitimate movements.
The United States categorized the CPP and NPA as foreign terrorist organizations in 2002, but the Philippines has refrained from issuing the same proclamation amid peace talks with the rebels.
In recent attacks, communist rebels have allegedly set on fire passenger buses, commercial trucks and killed innocent civilians, including a 4-month-old baby, according to the military.
Communist rebels have been fighting the Philippine government since the late 1960s, making the movement one of the longest-running leftist insurgencies in Asia.
Notepad