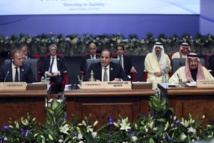 Conflicts in Libya and Yemen were likely to be the focus of the discussions at a closed session on addressing "regional challenges together."
In recent months, Islamic State has also suffered military setbacks in Iraq and neighbouring Syria, virtually ending the militant group's territorial self-styled "caliphate."
The extremist group's military collapse has raised fears that fragments of the group will retaliate with attacks in Europe and the Middle East.
The two-day summit is being held amid tight security in the Red Sea city, with Egypt engaging in a years-long campaign against Islamist militancy.
Other topics on the agenda include European concerns about migration from Africa and the Middle East to Arab countries' hopes for increased investment.
Leaders from both sides on Sunday pledged closer cooperation on security, terrorism and migration.
A senior EU official also expressed concerns about the human rights situation in many Arab countries.
"We have to talk to everyone, but you have to talk openly, without over-exaggerating the topic of human rights, but you should not underestimate it," Jean-Claude Juncker, the European Commission chief, said on Sunday.
Arab governments usually reject criticism of their rights record, calling it either a violation of their own sovereignty or smear attempts.