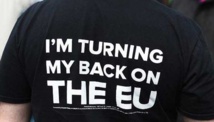 The EU wants clarity on three key aspects of Britain's departure from the bloc before agreeing to start talks on future relations - a step that London hopes to achieve at a leaders' summit on December 14-15. Time is pressing, with Britain due to leave the EU in March 2019.
But May's proposals, which had been expected at a meeting on Monday with European Commission President Jean-Claude Juncker, collapsed at the last minute due to domestic opposition over Ireland's border issue, one of the three divorce questions Britain must address.
Since then, negotiations have been ongoing, with the EU setting May an end-of-week deadline if she wants the the bloc to green-light talks on trade relations next week.
Late Thursday, Juncker telephoned Irish Prime Minister Leo Varadkar then May, EU spokesman Margaritis Schinas wrote on Twitter. London confirmed that the British and Irish premier had also spoken by phone.
"We are making progress but not yet fully there. Talks are continuing throughout the night," he wrote, adding that an early morning meeting was possible. "Tonight more than ever, stay tuned," he added.
European Council President Donald Tusk is due to give an update on the Brexit talks at 7:50 am (0650 GMT) on Friday morning. Speculation was rife on Twitter late Thursday that May could return to Brussels in the coming hours.
The British premier has been trying to find new wording since Monday on the principles for a post-Brexit Irish border, following the last-minute objection by Northern Ireland's Democratic Unionist Party (DUP).
Talks between May's government and the DUP continued on Thursday.
The DUP and some lawmakers from May's Conservative party have urged the Irish government and the EU to step back from their insistence on "regulatory alignment" between Northern Ireland, which will leave the EU with the rest of the United Kingdom, and the Republic of Ireland, which will remain an EU member.
But Foreign Minister Simon Coveney told the Irish parliament on Thursday that "the core issues that Ireland got agreement on at the start of the week are not changing."
Irish and EU officials have agreed that "regulatory alignment" is the best way to avoid a "hard" border and allow Northern Ireland to retain similar benefits to those it currently has under the EU single market and customs union.
Gerry Adams, president of Irish Republican party Sinn Fein, urged Varadkar to be "very careful about how he approaches the next phase of the Brexit negotiations."
Adams said Varadkar should ensure that any agreed text mentions a role for the European Court of Justice in overseeing the 1998 Good Friday Agreement, which paved the way for power-sharing between Republicans and Unionists after decades of sectarian violence in Northern Ireland.
The Brexit agreement should also guarantee that people in Northern Ireland with Irish citizenship will have "full EU rights," Adams said.
In London, meanwhile, British Foreign Secretary Boris Johnson said any deal on the border must be "consistent with the whole of the United Kingdom taking back control of our laws, of our borders and of our cash."
Besides the Irish border issue, May must also reach agreement with the remaining EU states on citizens' rights post-Brexit and Britain's outstanding financial obligations to the bloc.
Earlier Thursday, the commission gave May until Sunday to present her proposals, as senior EU diplomats were meeting on Monday to prepare next week's summit.