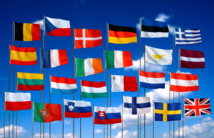 The European Union's enlargement policy serves as a tool to encourage neighbouring states to carry out pro-democratic reforms, offering the prospect of membership to bring them into line with the bloc's standards.
The two Balkan countries received the go-ahead in principle last June already, although member states agreed at the time that further reforms were necessary.
"Both countries have delivered. To remain credible with the merit-based process, the EU must stick now to its commitment and respond clearly and positively when countries fullfil theirs!" Hahn tweeted.
The commission "repeats its recommendations of last year to open now accession negotiations with both countries!" he added.
The move requires the formal approval of EU member states, with the issue on their agenda at a meeting of EU affairs ministers on June 18. The start of accession talks is viewed critically by the Netherlands, France and Denmark in particular.
In Germany, Chancellor Angela Merkel's conservatives appeared Wednesday to be applying the brakes. The German parliament must give the go-ahead for the government to agree to the start of membership negotiations.
"It will be October before there is a decision," the head of the parliament's Europe committee, Gunther Krichbaum, told dpa, adding that there was no way the 28 member states could give a green light in June.
North Macedonia in particular is seen as having made huge strides by settling a name dispute last year with neighbouring Greece.