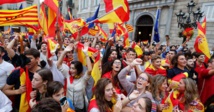 Becoming a member of parliament would grant him immunity from prosecution across all of the European Union, including Spain, Puigdemont said in an interview with Catalan radio broadcaster RAC1.
Puigdemont was president of Catalonia in October 2017, when the region held a referendum on independence from Spain that the country's Supreme Court subsequently declared illegal.
Madrid dissolved the Catalan regional parliament and charged Puigdemont and several of his deputies with sedition.
Puigdemont fled the country shortly afterwards and has spent the past 16 months in Brussels in exile. Spain's national arrest warrant for Puigdemont remains valid.
The 56-year-old politician and ex-journalist plans to run in the European elections on May 26 as the top candidate of the separatist alliance Junts per Catalunya (Together for Catalonia, JuntsXCat).