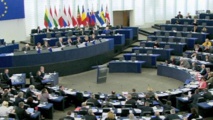 "We have got to be leading the necessary, indeed the vital, change to make Europe stronger and to modernize it," Sassoli said ahead of the vote, citing climate change, migration and social justice as major challenges.
After his victory, he called for a strengthening of the parliament as a way to deepen European democracy.
"We're not building anything up from the ground," he told lawmakers. "Europe is based on its institutions, imperfect though they are ... Even though they require reform, they have upheld our freedoms and independence."
A 63-year-old former journalist from Florence, Sassoli has served as an EU lawmaker for 10 years.
He completes a tableau of top appointments, after EU leaders nominated German Defence Minister Ursula von der Leyen as European Commission president, elected Belgian Prime Minister Charles Michel as European Council president and proposed Spanish Foreign Minister Josep Borrell as EU foreign policy chief.
The leaders also named International Monetary Fund chief Christine Lagarde as the next president of the European Central Bank.
Sassoli faced three other challengers for the presidency. On the second ballot, conservative Czech EU lawmaker Jan Zahradil won 160 votes; German EU lawmaker Ska Keller of the Greens secured 119 votes; and Spanish far-left EU lawmaker Sira Rego came in last with 43.
The parliament president is elected to a two-and-a-half-year term. The centre-right European People's Party, which came first ahead of the socialists in May's EU elections, backed Sassoli in return for securing the top commission nomination and for having one of its members take over for the following two and a half years.