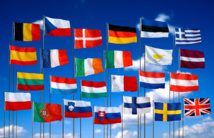 Under a decree signed on Wednesday by President Vladimir Putin, residents with a permanent residence in "individual counties" in Ukraine's Donetsk and Luhansk regions can become Russian citizens through a "simplified process," the Kremlin said, referring to a shorter timeline needed to examine the necessary documents.
The move "is another attack on Ukraine's sovereignty by Russia," said EU foreign policy spokesperson Maja Kocijancic.
"The timing of such a decision immediately after Ukraine's presidential election, which demonstrated Ukraine's strong attachment to democracy and the rule of law, shows Russia's intention to further destabilize Ukraine and to exacerbate the conflict," she added.
In Ukraine's second round of presidential elections held on Sunday, Volodymyr Zelensky defeated incumbent Petro Poroshenko. Both are seen as pro-European.
Poroshenko called on the international community to tighten sanctions on Russia, while Zelensky's team condemned the action as an "obvious confirmation ... of Russia's real role as an aggressor state."
Meanwhile, the US Department of State called the decree a "highly provocative action."
Prior to the announcement, Moscow had already been recognizing documents such as birth certificates or vehicle registrations from the separatist regions' authorities.
The UN estimates about 13,000 people have been killed in the conflict near the Russian border between pro-Russian separatists and the Ukrainian military that erupted after the ouster of pro-Russian president Viktor Yanukovych in 2014.