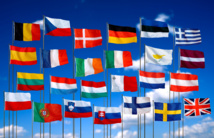 The US embassy in Tirana urged "all participants in today's demonstrations to peacefully exercise their right of assembly and reject violence" and called on the government and security forces to practice restraint.
All 65 opposition lawmakers relinquished their seats and joined a protest against Socialist Prime Minister Edi Rama's government in the capital on Thursday.
An opposition rally on Saturday turned violent when demonstrators pelted the prime minister's office and the government headquarters with stones and tried to break in. Police used tear gas, flash grenades and water cannon.
The opposition accuses Rama's administration of corruption and links with organized crime. It demands his resignation and a technical government to set up a fair framework for elections.
The EU, however, criticized the decision of the opposition, lined up behind Democratic Party leader Llulzim Basha, to quit the parliament.
The move "seriously hinders the functioning of democracy in Albania. The Parliament is the place where reforms and relevant developments should be discussed ... not boycotted," Mogherini and Hahn said.
The decision to boycott is "counterproductive," they said.