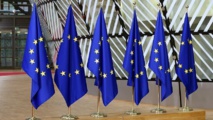 The new EU mission is to involve aerial, satellite and naval assets, the bloc's top diplomat said. The vessels will be equipped with means to stop any ships delivering weapons to the North African country, he added.
The details are to be worked out in the weeks to come, with a view to formalizing an agreement at the ministers' next official meeting in March.
Several national parliaments, such as Germany's, may have to be consulted in the process, although Borrell noted that the new operation could inherit an existing UN mandate.
Key to Monday's breakthrough is the inclusion of measures to allay concerns that the presence of European ships in the Mediterranean would create a pull factor for migrants who might hope to be picked up by the naval vessels and taken to Europe.
These measures include deploying the vessels in the eastern Mediterranean, away from migrant routes, as well as a pledge to suspend naval operations in any area where a surge in attempted crossings is detected.
In January, the EU pledged to do its utmost to prevent arms from entering Libya after an international conference in Berlin.
The high-level talks aimed to lay the groundwork for a Libyan peace process and end outside interference and military support for the country's rival factions, however the violence continues and Libya is awash in weapons.
"This is major support for the Berlin [peace] process, which at its core is about keeping the parties in the civil war away from their backers," Germany Foreign Minister Heiko Maas said of the new EU mission.
Libya's arms embargo is being "systematically" violated, feeding fighters with an incredible amount of weapons, Borrell added.
Austrian Foreign Minister Alexander Schallenberg said it will be "a totally new mission" replacing the EU's currently suspended Operation Sophia.
"Operation Sophia no longer exists," added his Italian counterpart Luigi Di Maio. Rome's previous government had been instrumental in suspending the naval patrols amid a row over responsibility for rescued migrants.
However, the operation will take over several tasks from Operation Sophia, Borrell noted, including the fight against migrant traffickers and training the Libyan coast guard.
Notepad