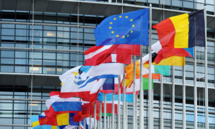 EU statistics agency Eurostat is set to release on Thursday data on gross domestic product (GDP) for the first quarter of this year, as well as unemployment in March and inflation in April.
The European Commission expects an economic slump of 5 to 10 per cent in the EU due to the coronavirus crisis, which has shuttered factories, restaurants and shops throughout the continent.
Several EU countries have begun to ease these lockdown measures, but all acknowledge the road to recovery will be rough.
More precise figures on the anticipated recession will be presented at the beginning of May, Commission Vice President Valdis Dombrovskis said on Monday. Officials were still waiting for hard data on unemployment, he said.
The EU is currently cooking up its plan for economic recovery, though leaders are at odds on how much cash to throw in and how to spend it. A half-trillion package of short-term measures has already been agreed, and is supposed to be up and running in June.
However, there are also plans for a long-term recovery fund worth at least 1 trillion euros (1.1 trillion dollars). This should be ready to go at the start of 2021, according to EU officials.