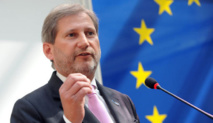 Speaking ON the sidelines of a meeting of European Union foreign ministers and their counterparts representing EU candidate countries, Hahn said that the issue over the name "Macedonia" would be resolved during Bulgaria's 6-month EU presidency, which runs until the end of June.
"I'm very confident about this," Hahn said.
The name issue between Athens and Skopje is one of the major obstacles to Macedonia starting negotiations over joining the EU.
The small Balkan nation was known as the Socialist Republic of Macedonia until 1991, when it became independent. It has since been using the shortened version of the name.
However, "Macedonia" is also the name of a region in northern Greece, leading to a bitter dispute that has cost Macedonia NATO membership and EU accession talks.