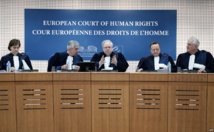 The families went to court against the European Council - which represents the bloc's 28 member states - and the European Parliament to demand more action against climate change, arguing that the issue threatens their fundamental rights.
The EU has endorsed the goal of cutting greenhouse gas emissions by at least 40 per cent, compared to 1990 levels, by the year 2030.
The families, from Germany, France, Italy, Portugal, Romania, Kenya and Fiji, say that this is not enough.
The Luxembourg-based court argued, however, that "every individual is likely to be affected one way or another by climate change" and therefore the complainants were not being harmed in any way that differentiated them from everybody else.
The families plan to appeal the ruling before the European Court of Justice, the bloc's top tribunal, according to the Climate Action Network (CAN) campaign group.
"We are not asking for money or compensation. We want urgent and increased climate action," said Giorgio Elter, an Italian mountain farmer involved in the case. "I am worried about the future of my daughters," he added, according to CAN.
The German family involved runs a hotel and restaurant on the North Sea island of Langeoog, where they have lived for four generations. They argue that their home and livelihood are threatened by climate change.