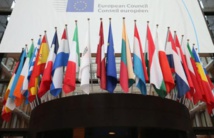 The EU is an ally of the United States and "cannot possibly be a threat to national security," EU Trade Commissioner Cecilia Malmstrom said Friday at a forum organized by the German Marshall Fund think tank.
"We are counting on being excluded."
Malmstrom said she would discuss the issue at a long-planned meeting on Saturday with US Trade Representative Robert Lighthizer and his Japanese counterpart Hiroshige Seko, noting that it was "not crystal clear" what Trump had decided Thursday.
Trump signed proclamations Thursday imposing import tariffs of 25 per cent on steel and 10 per cent on aluminium products, invoking a rarely used US law authorizing presidential action against imports that undermine national security.
The EU has already threatened possible countermeasures to Trump's decision. A list prepared by the European Commission includes around 200 imports from the US worth an overall value of around 2.8 billion euros (3.45 billion dollars) in 2017.
The list, seen by dpa, includes goods such as bourbon, peanut butter, cranberries and orange juice, as well as steel, textile and industrial products. It would require the final approval of the EU's 28 member states.
If the EU is hit with tariffs, it will be ready to respond within 90 days as prescribed by the World Trade Organization, Malmstrom said.
The European Steel Association condemned Trump's decision, warning that it "could cost tens of thousands of jobs in the EU steel industry and related sectors."