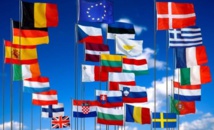 The EU countries have agreed on a provisional list of entities and individuals that provided ships, planes and other logistics for the transport of combat equipment to Libya, according to EU diplomatic sources.
According to the diplomats, three firms from Turkey, Jordan and Kazakhstan and two Libyan individuals are on the list.
The United Nations imposed an embargo on arms exports to Libya - which has been in turmoil since the overthrow of dictator Moamer Gaddafi - in 2011, and breaches of this can result in sanctions.
The EU ministers will also discuss on Monday punitive measures against individuals from Belarus alleged to be involved in human rights breaches and electoral fraud in the country.
Cyprus has been blocking sanctions on Belarus, according to EU diplomats, demanding measures against Turkey for maritime gas exploration activities in the eastern Mediterranean that Nicosia and Athens deem illegal.
"This move by Nicosia effectively shields the Lukashenko regime from the consequences of its undemocratic and oppressive behaviour," an EU diplomat told dpa on Friday, and expressed hope that Cyprus would lift its veto on Monday.
Sanctioning Turkish firms over Libya could potentially serve to appease Cyprus, according to EU diplomats.
Belarusian opposition leader Svetlana Tikhanovskaya is to meet with EU foreign policy chief Josep Borrell for informal talks before Monday's meeting. The 27 foreign ministers are also invited.