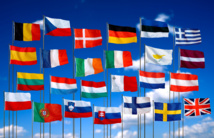 Besides the arms embargo, the EU decision also includes setting up the legal framework to sanction individuals and entities through travel bans and assets freezes if needed.
"These measures will be used in a gradual and flexible manner and can be expanded, by targeting those involved in the non-respect of democratic principles or the rule of law and the violation of human rights," the EU foreign ministers said in a statement.
"These measures were designed not to harm the Venezuelan population whose plight the EU wishes to alleviate."
The EU stressed that the "primary responsibility for ending the crisis in Venezuela lies in the country," calling on the government to "urgently restore democratic legitimacy" through holding elections.
The 28-country bloc also called on Venezuela to provide "full transparency" over the results of regional elections held on October 15, in which President Nicolas Maduro's United Socialist Party of Venezuela (PSUV) took 18 out of 23 governorships. The opposition said the results were fraudulent.
The political fractures had been exacerbated by Maduro's attempt to consolidate his power and strip the opposition-controlled National Assembly of its authority by creating a new constituent assembly over the summer to rewrite the country's constitution.
The EU noted that it could not recognize the new constituent assembly because of "serious concerns about its legitimacy and representativeness."
Venezuela, which has the world's largest oil reserves, has been hit hard by a global drop in oil prices coupled with triple-digit inflation.
Hundred of thousands of Venezuelans have fled to neighbouring countries due to food shortages and a lack of basic goods.
More than 120 people have been killed in anti-government protests so far this year.
Notepad