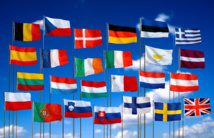 European Council President Donald Tusk "will shortly reconvene [the EU summit] for breakfast," his spokesman Preben Aamann wrote on Twitter at 7 am, eight hours after the session was suspended for a series of bilateral talks.
But Conte told reporters minutes earlier that "at the moment, it doesn't seem that there is an agreement," adding that it was unclear whether they would succeed.
There is not enough support among the 28 leaders to propose socialist candidate Frans Timmermans as commission president, Conte said, adding that Italy was open for a package solution that included him.
Notepad