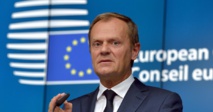 The informal summit, bringing together the heads of the 27 EU states that will remain after Britain's departure in March 2019, will be the beginning of a long and likely contentious debate.
Leaders will not only have to decide how to plug an estimated post-Brexit funding hole of up to 14 billion euros (17.2 billion dollars), but must also agree on spending priorities from 2020, with migration, terrorism and border protection presenting new challenges.
European Council President Donald Tusk noted it was important to start negotiations, reminding leaders that deciding on the budget for the 2014-2020 period took 29 months.
This time around, EU elections in spring 2019 make the timing of the process more complicated.
Tusk acknowledged that finding an agreement on the budget with the current European Parliament would be "unrealistic," adding that the more realistic option would be to reach a deal among leaders "in the course of 2019" and strike an agreement with the incoming parliament.
The leaders will also discuss institutional changes.
They are expected to approve plans to reduce the number of parliamentary seats from 751 to 705 following Brexit, cutting 46 of Britain's 73 seats and reassigning the rest to under-represented countries.