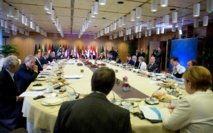 It was unclear late Thursday whether the matter would be revisited at the final day of the summit. Rinne said discussions would continue Friday, but Dutch Prime Minister Mark Rutte said leaders would revisit the issue at a later summit.
The question of launching EU membership talks with the two western Balkan states was kicked up to the level of EU leaders on Tuesday, after France - backed by the Netherlands and Denmark - stopped ministers giving the go-ahead.
Tirana and Skopje reacted with disappointment to the move. It also upset several EU capitals as well as the bloc's Enlargement Commissioner Johannes Hahn, who said Brussels was not living up to its promises.
Many fear that western Balkan states could be pushed further into the arms of countries such as Russia and China.
But Paris argues that the enlargement process is slow and frustrating for prospective members and needs a fundamental reform. France also questions the European Commission's assessment that Tirana and Skopje had completed all the homework required of them.
Last year, North Macedonia changed its name at the EU's behest, while Albania has carried out a sweeping judicial overhaul.
German Chancellor Angela Merkel spoke out once more earlier on Thursday in favour of EU membership prospects for the two countries, both of which share borders with EU member states.
Merkel told parliament in Berlin that Germany was particularly close to the states in the western Balkans and wanted to integrate them into the EU.
At a meeting with French President Emmanuel Macron in Toulouse on Wednesday, the chancellor had signalled her support for his desire to reform the accession process.