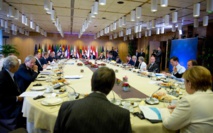 But fissures re-emerged over finding a common approach on the divisive issue of sharing the distribution of migrants on the second day of a Brussels summit of EU leaders.
Austrian Chancellor Sebastian Kurz proposed a more flexible strategy to help the European Union resolve its divisions over how to redistribute migrants and asylum seekers.
Rather than continue with an unsuccessful push for binding quotas to distribute asylum seekers across the EU, member states should take bespoke approaches to express "solidarity" with EU partners, Kurz said ahead of the meeting.
"This means, each [state] has to make a contribution where it can and where it makes sense," he added, implying that some member states could compensate with financial contributions.
But German Chancellor Angela Merkel said such a proposal would not "solve the issue" of ensuring an equitable distribution and is a "little too easy."
"This really isn't a European answer," said Merkel, whose country accepted more than a million asylum seekers in 2015.
Austria, which holds the rotating presidency of the EU, wants to make progress on the thorny issue of migration by the end of its term in December.
Leaders also called for boosting the powers of the European Migrant Smuggling Centre at Europol, the EU's police force, and improving surveillance of smuggling networks' online communications, with a view to completing measures by December.
Vienna, along with Italy and several central European states headed by right-wing populist governments, have taken a hard line on migration. Some have taken in almost no migrants or asylum seekers at all this year.
However, other governments fear the issue will help populist parties make gains in EU elections next year.
European Council President Donald Tusk has stressed that the EU is long past the "crisis phase" of three years ago.
The leaders noted that the number of illegal arrivals is down by 95 per cent from the 2015 peak.
EU leaders also focused on how the bloc can enlist more help from northern African states. Many migrants travel via Libya, where political turmoil and conflict have made it hard for the country to patrol its shores.
One push has been to try increasing cooperation with Libya, including facilitating voluntary returns through the International Organization for Migration and ramping up the EU's training of the Libyan coast guard.
There has, however, been no real progress on the idea of so-called disembarkation platforms in northern Africa for migrants rescued at sea.
In June, EU leaders embraced the idea, but no country has since come forward offering to host a platform.
"Everyone thinks this is a great idea, but no one wants to have one," said Luxembourg Prime Minister Xavier Bettel. "That complicates matters."
Along with migration, leaders were also taking up internal security, external relations - notably with Africa - and reform of the 19-member eurozone.