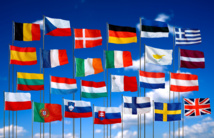 That timeline may now be slipping.
"2025 would be a reasonable schedule to me," said German Interior Minister Horst Seehofer, speaking at a meeting of EU interior ministers.
He said that while he supports increasing the guard's permanent reserve, "we should not make utopian promises."
The coastguard debate stems from the refugee crisis in 2015-16.
Despite a dramatic fall in arrivals to Europe since then, migration is a politically sensitive issue, especially ahead of European Parliament elections in May.
EU member states are also deeply divided on migration and asylum policy. While most want stricter controls, they disagree on how to handle those who reach the bloc.
The commission proposal was based on the idea that a larger and more robust EU coastguard - also known as Frontex - would allow the EU to better control its external borders, meaning the bloc could remove existing controls on its internal borders.
Most EU member states belong to the Schengen zone, which has done away in principle with internal border controls - a move that has been celebrated as a key accomplishment.
The proposal has to clear two hurdles, however. One is logistical - the hiring and training of that many employees by 2020 now looks daunting. The other is that some member states fear that a beefed-up Frontex could diminish their own sovereignty over border controls.
Austrian Interior Minister Herbert Kickl, whose country holds the rotating EU presidency, said discussions among member states have shown that the commission proposal timeline might be too ambitious.
"The problem is that we do not get these officials on the supermarket shelf," said Kickl, whose government recently suggested extending the timeline to 2027.
Meanwhile Thursday, EU Migration Commissioner Dimitris Avramopoulos pointed to the need for all member states to join the effort.
"What it takes to make this happen is full commitment and political agreement," he said.
The ministers did decide Thursday to bolster Frontex's power to help return migrants who do not qualify for protection. This paves the way for the agency to help member states send people back to their country of origin.
Some of the outstanding issues - including stalled efforts to reform the EU's asylum system - could be taken up by EU leaders at their traditional end-of-year summit next week.