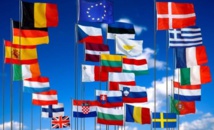 EU citizens can cautiously look forward to relaxing trips or seeing family or friends in the peak months of June to August, EU Health Commissioner Stella Kyriakides said, but should be aware that travel will bring risks as long as the virus circulates.
"We need to maintain vigilance, physical distancing and rigorous health precautions - we will not allow our efforts to be lost," the senior EU official said.
Travel between areas that meet epidemiological criteria should be allowed, according to the advice, provided host communities have well-prepared health care systems and the capacity to trace and monitor the spread of Covid-19.
Europe has recorded close to 1 million cases of the respiratory disease, but seems to have got the outbreak under control in recent weeks.
Dropping the border controls - which are against the bloc's normal rules on freedom of movement - could drive a fresh wave of infections, the commission warns.
EU citizens should be prepared to see restrictions on their movement reimposed should the situation flare up again, according to the guidelines.
"This is not going to be a normal summer, not for any of us," commission Vice President Margrethe Vestager told journalists in Brussels.
The decision to soften border controls is in the hands of each country in the EU, as is monitoring of epidemiological data.
Germany's border to Luxembourg will be the first to open up, after a decision was made not to extend the controls beyond this Friday, when they are set to expire.
Croatia expects to open borders with Slovenia within days, and to other EU nationals no later than June 15, Health Minister Gari Cappelli told state broadcaster HRT on Wednesday.
Greece, with an economy dependent on tourism, welcomed the European Commission's plan to relax measures. The country has for days been leading bilateral talks with other EU member states, as well as with Israel and Australia, seeking to lift travel restrictions.
But across the EU, many barriers to travel are to stay in place for the coming weeks.
In agreement with France, Switzerland and Austria, the German government has decided to extend border closures with those countries, initially set to expire this weekend, until June 15.
Poland has decided to extend border controls with most European countries by another 30 days, until June 12, the Interior Ministry said in a statement.
The EU's external borders will stay shut for travellers on non-essential trips until June 15, provided the 27 member states stick to the commission's advice from last week.
When Covid-19 first hit the continent, many EU capitals sealed off their borders with neighbours, prompting chaos and huge traffic jams that lasted days.
The commission is keen that the EU's reopening take place in a more orderly manner, and has urged states to keep goods flowing within the EU's single market throughout the crisis.
The EU executive also issued on Wednesday a warning to a number of member states that have allowed airlines to make customers accept vouchers rather than a cash refund for cancelled flights amid an aviation industry liquidity crunch.
The EU executive is sending letters to all 27 states, urging them to uphold EU passenger rights, while also laying out ways of making vouchers more attractive to passengers, EU Transport Commissioner Adina Valean said.
If the member states in question fail to implement the existing rules, under which passengers have a right to reimbursement, the commission is "determined" to follow up with legal action, Valean added.