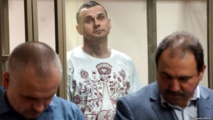 Sentsov, a fierce critic of Russia's 2014 annexation of Ukraine's Crimean peninsula, was sentenced in 2015 to two decades in a Russian prison after being convicted of conspiracy to commit terrorist attacks in Crimea.
When Sentsov was announced as the winner on October 25, European Parliament President Antonio Tajani called for his release, adding that the European Union is "expressing its solidarity with him and his cause."
The 50,000-euro (57,000-dollar) Sakharov Prize for Freedom of Thought is awarded annually to those who have made an exceptional contribution to the fight for human rights across the globe.
Sentsov's best-known work is his 2011 film "Gamer," a drama about a video-game enthusiast in Crimea. The motion picture was critically acclaimed upon appearing at several international film festivals.
Sentsov, who grew up in Crimea, became involved in the Euromaidan protest movement against Ukraine's then pro-Russian president, Viktor Yanukovych, in 2013. Russian authorities have accused him of plotting attacks on Soviet landmarks in Crimea.
The other two finalists for this year's prize were Moroccan activist Nasser Zefzafi and a group of 11 migrant rescue organizations.
The EU's legislature established the prize in 1988. The first laureate was South Africa's Nelson Mandela.
In recent years, the award has gone to the Venezuelan opposition, two survivors of sexual enslavement by Islamic State and the Saudi blogger Raif Badawi.