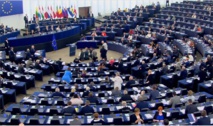 On Sunday, Davis described the Brexit deal struck by Prime Minister Theresa May last week as a "statement of intent" and not "legally enforceable."
Verhofstadt described Davis comments as "unacceptable" and "really undermining the trust that is necessary in such negotiations."
He said the comments have prompted the EU parliament to toughen the text of a resolution due to be adopted on Wednesday, by saying it is "absolutely necessary" for Britain to stick to its commitments and translate them into legally binding text as soon as possible.