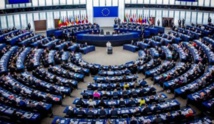 In an open letter to EU foreign affairs chief Josep Borrell published on Friday, members of various political groups in the European Parliament call for a "full and transparent investigation" into the case.
"However, we remain extremely sceptical that Russian authorities are fit and willing to investigate the real background of this crime," they said, citing the murders of a range of figures critical of the Russian government, such as Anna Politkovskaya and Sergei Skripal.
Navalny is currently in a coma in a Berlin hospital. German authorities say that toxicology tests have proven that Navalny was poisoned with the Soviet-developed military nerve agent Novichok. The Kremlin has denied any culpability in the case.
Borrell on Thursday evening stressed the possibility of taking further steps in response to Navalny's poisoning.
Highlighting that the use of chemical weapons is "completely unacceptable under any circumstance," Borrell openly threatened Russia with sanctions.
"The European Union calls for a joint international response and reserves the right to take appropriate actions, including through restrictive measures," he said.
The North Atlantic Council will meet on Friday to discuss the affair, but concrete actions are limited.