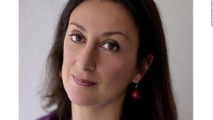 Daphne Caruana Galizia, a 53-year-old newspaper columnist and vocal government critic, was killed by a car bomb just metres from her home in the village of Bidnija on October 16.
The "eyes of Europe stay firmly fixed on Malta," the European Commission's Vice-President Frans Timmermans said during a debate about her killing.
"It is the duty of the Maltese state to investigate this murder," Timmermans said, adding that Caruana Galizia "appears to have been killed because someone wanted to stop her from reporting."
Esteban Gonzalez Pons, a Spanish deputy for the largest parliamentary group, the European People's Party, said he wept after meeting the family of Caruana Galizia.
Pons described the assassination as "a direct threat against all of us," and called on the European Commission to investigate the rule of law in Malta.
"We failed Daphne," Pons said, adding that the murder was a "dark shadow" on everyone's conscience.
Earlier the parliament announced that the press room will be named after Caruana Galizia, and observed a minute of silence in her memory.
During the parliamentary session, which was attended by the journalist's family, parliamentary president Antonio Tajani said the example that Caruana Galizia "set as a journalist must never be forgotten," and called on the Maltese authorities to "spare no effort to get to the bottom of this crime."
"They must leave no stone unturned," said Tajani, who described Caruana Galizia as "a courageous woman, an outstanding journalist," who had investigated "without fear or favour."
Her reporting in the wake of a massive document leak known as the Panama Papers - in which two Maltese cabinet members were embroiled - forced an early general election in June.
She also had alleged that Economy Minister Chris Cardona had visited a brothel in Germany while on government business.