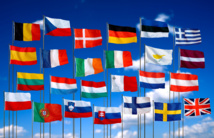 The move comes amid heightened uncertainty over whether British Prime Minister Theresa May can secure parliamentary approval for a Brexit deal struck with Brussels. Britain is due to leave the EU in 100 days' time - on March 29, 2019.
The commission's announcement covers priority areas where a no-deal Brexit would create serious disruption for people and businesses, such as citizens' rights, air travel and financial services.
The measures are "limited to specific areas where it is absolutely necessary to protect the vital interests of the EU," the EU's executive wrote.
They "cannot replicate" the benefits of the withdrawal deal negotiated by London and Brussels, nor those of EU membership, stressed commission Vice President Valdis Dombrovskis.
"Remain is better than leave and deal is better than no-deal," he said, while noting that the measures unveiled Wednesday would mitigate some aspects of the worst-case scenario.
In the case of an unregulated Brexit, EU rules would stop applying to Britain overnight. The consequences would be far-reaching, changing the legal status of British citizens living in the bloc and vice versa, and disrupting cross-border business.
The commission called Wednesday on EU member states to take a "generous approach" towards British citizens living in their country, ensuring that they keep their legal residency status and can still access social security under a no-deal Brexit.
In the case of no deal, the commission proposed allowing flights between Britain and the EU to continue for a year. This would not, however, permit British-based carriers such as British Airways or Easyjet to operate flights from one EU airport to another.
In order to safeguard financial stability in the EU, the commission took decisions granting extra time for businesses to transfer some key financial activities from Britain to the continent.
Other measures aim to streamline customs and export procedures for goods moving between Britain and the EU, as well as protecting the EU emissions trading system aimed at capping the release of environmentally harmful carbon dioxide.
The measures are contingent on Britain taking equivalent steps in the case of a no-deal Brexit. London has also stepped up its no-deal planning.