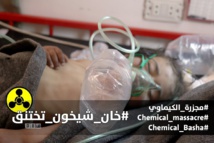 The individuals are placed on the sanctions list for "their role in the development and use of chemical weapons against the civilian population," according to a statement.
According to the Organization for the Prohibition of Chemical Weapons (OPCW), the prohibited nerve agent sarin was used in an attack in April that killed dozens of people in the town of Khan Sheikhoun in Syria's north-western Idlib province.
"The 16 individuals sanctioned include military officers and chemical specialists responsible for abhorrent chemical weapons attacks on innocent men, women and children," British Foreign Secretary Boris Johnson said in a statement.
Johnson added that Britain had helped to push for these sanctions in order to "send a clear signal to the Syrian regime that their barbaric actions have consequences."