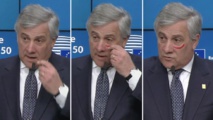 When asked about his new look, he explained that he was participating in an Italian campaign organized for the International Day for the Elimination of Violence against Women, which is supported by the United Nations.
The initiative, which carries the motto "It is not normal, that it is normal," is supported by many celebrities, politicians, journalists, actors and musicians in Italy. Participants show their solidarity by painting a red line under one eye.
Tajani said being violent towards women was one of the worst things a man could do and that no human being should feel superior or inferior to another.
Tajani was in Brussels as part of the special EU Brexit summit, during which the draft deal between the EU and Britain was endorsed by the remaining 27 EU member states.
According to the UN, "violence against women and girls (VAWG) is one of the most widespread, persistent and devastating human rights violations in our world today," and around one in three women or girls will experience some form of violence in their lifetime.