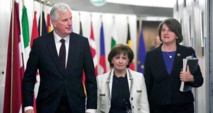 The talks follow a request by British Prime Minister Theresa May to make legally binding changes to the withdrawal agreement in order to secure a majority in parliament for the deal, which would ensure a smooth departure when Britain leaves the European Union on March 29.
The EU has ruled out reopening the 585-page withdrawal deal but has shown willingness to change an accompanying political declaration in which both sides outline their preferences for the future relationship.
At the heart of British concerns are the so-called backstop provisions to guarantee an open border and maintain a fragile peace between the Republic of Ireland, an EU member, and Northern Ireland, which is part of the United Kingdom.
Barnier said he would repeat the EU's position and "listen to what the secretary of state has to tell us" about alternative arrangements that London would like to use to replace the backstop. "But this is nothing more than a concept today," he added.
At the same time, he said an offer by British opposition Labour leader Jeremy Corbyn, to support May's Brexit deal if she in turn opts for a future customs union aligned with the EU, was "interesting in tone and in content."
The EU has long said it is willing to embrace a more ambitious future partnership if London changes its red lines.
"Something has to move on the British side," Barnier added.