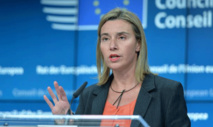 "Clearly the EU has to defend its interests and this is why ... the EU will today proceed with the WTO dispute settlement case and impose additional duties on a number of imports from the United States," Mogherini says in Brussels.
"This doesn't mean the US are not our closest partners and friends and allies," she adds. "We work very closely with the US on most issues, from security to international foreign policy issues, and this will continue to be the case."
She also rejected talk of a trade war, noting: "The European Union is not at war with anyone. ... The EU is a peace project, including on trade."