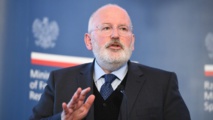 Timmermans
Timmermans added he will "never understand" why "a number of people in Westminster are so cavalier about this."
"There is no way I could live with a situation where we throw Ireland under the bus. That's not Europe," said Timmermans in the interview conducted late last week.
Timmermans emphasized the "backstop" provision - a guarantee to keep the Irish border open even if Britain cannot reach a long-term trade deal with the EU - must be ironclad and not time-limited. Otherwise, "it is no longer a backstop," he said.
Some Brexit supporters fear the backstop could leave Britain tied too closely to the EU.
British lawmakers remain deadlocked over how to proceed with only nine weeks remaining before their country is due to leave the bloc.
Concerns are rising over a "no deal" scenario, as Prime Minister Theresa May's Brexit deal - which includes a backstop - remains extremely unpopular.
Some British lawmakers have floated the idea of extending the deadline for Britain to prepare for Brexit.
This would indeed be a "possibility" under the EU treaty, Timmermans said.
But Britain must tell the EU member states "for how long and what for, and [they] will come to a decision," he added.
The backstop plan to keep the Irish border open has been one of the biggest obstacles for May.
Under the withdrawal agreement she is trying to get through parliament, Britain will enter a 21-month transition period after leaving the EU in March.
Should the transition period not prove sufficient to negotiate the future relationship, the EU has insisted on measures to preserve an open border between the Republic of Ireland, an EU member, and Northern Ireland, which will leave with Britain.
This would preserve an open border on the island of Ireland, while also keeping Britain and Northern Ireland in the same customs territory.
However, Belfast would be bound by some of the more stringent rules of the EU's single market, while the rest of the United Kingdom would only have to comply with customs-related provisions.
May and her EU counterparts stress that the backstop is not intended to be used - and if so then for the shortest time necessary - since they hope a deal can be struck in time on the future trade relationship.