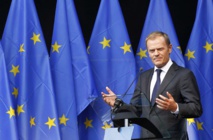 "You will also rebuild your cathedral," Tusk says during a European Parliament session in the French city of Strasbourg. "I call on all the 28 member states to take part in this task," he adds.
"I know that France could do it alone, but at stake here is something more than just material help," Tusk says, adding: "We are bound by something more important and more profound than treaties."
A massive blaze that partially destroyed the iconic Notre Dame Cathedral in Paris has been completely extinguished, a spokesman for the fire brigade says.
Firefighters managed to save the 850-year-old building's main stone structure, but the roof and other parts of the cathedral were destroyed in the blaze overnight to Tuesday.
Paris Mayor Anne Hidalgo announced her intention to hold a donor conference for the cathedral's reconstruction after the first multi-million-euro pledges started rolling in.