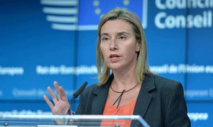 "We were told during the night that he was planning to change his travel plans and to have a stopover here in Brussels," Mogherini tells journalists.
"We will be here all day with a busy agenda. So we will see during the day how and if we manage to arrange a meeting," she adds.
German Foreign Minister Heiko Maas says he will discuss Iran with his French and British counterparts, noting that there would be a lot to discuss with Pompeo, while adding that it is not yet clear whether such a meeting will take place.