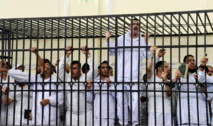 In July 2017, a lower court handed down death sentences to 28 people in the same case.
On Sunday, the Court of Cassation, Egypt's top appeals court, reduced the sentences for six of the 28 convicts, jailing them for life, the sources said.
Sentences against the 13 others were commuted to varying jail terms.
Sunday's verdicts are final.
Barakat was killed in a car bombing near his house in Cairo in June 2015.
He was the most senior Egyptian figure to die in a spate of attacks that hit the country following the military's 2013 ouster of president Mohammed Morsi, a senior official in the now-outlawed Muslim Brotherhood.