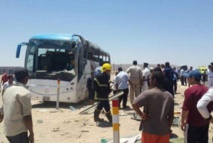 The bus was heading to the desert St Samuel Monastery in the southern province of Minya on Friday when gunmen ambushed it, killing seven people. The Islamic State extremist militia claimed responsibility.
The Interior Ministry, which is in charge of police in Egypt, said Sunday that security forces had raided a mountainous area in Minya where members of a group involved in the attack were in hiding.
The suspects opened fire at the police forces, who responded and killed 19 "terrorist elements," the ministry added in a statement.
Automatic rifles were also seized at the scene, added the ministry, which did not say exactly when the raid had been carried out.
Egypt has witnessed a spate of militant attacks since 2013, when the army deposed Islamist president Mohammed Morsi, the country's first democratically elected leader, after mass protests against his rule.
Several of the attacks have targeted the minority Christian community and churches.
In April 2017, twin suicide bombings, also claimed by Islamic State, targeted two Coptic churches, killing 48 people. The Palm Sunday bombings prompted Egypt to declare a nationwide state of emergency.
Christians account for around 10 per cent of Egypt's predominantly Muslim population of about 100 million.