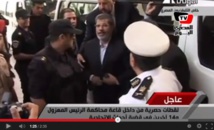 The Cairo Criminal Court, which issued the sentence, convicted Morsi of defaming the judiciary in a public speech he made more than four years ago "with the aim of spreading hate," according to state television.
In 2013, Morsi, when he was in office, accused in a televised speech a judge of overseeing fraud in previous elections.
The court Saturday ordered Morsi to pay 1 million Egyptian pounds (56,270 dollars) to that judge.
The court also sentenced 18 co-defendants in the same case to three years in prison each.
Five other accused, including prominent pro-democracy campaigner Alaa Abdel-Fatah, were ordered to pay a fine of 30,000 Egyptian pounds each.
The defendants include Islamists, secular activists, lawyers and journalists, who were convicted of defaming the country's judiciary in different media comments.
All the rulings can be appealed.
Morsi, Egypt's first democratically elected president, was toppled by the army in mid-2013 following mass protests against his rule.
He has been tried in several different cases since his ouster.
Morsi is serving a final sentence of 20 years in prison in a separate case related to inciting deadly attacks on anti-Islamist protesters in 2012.
In September, Egypt's top appeals court upheld a separate 25-year jail sentence for Morsi on charges of harming national security by leaking secret state documents to his ally Qatar while he was in office.