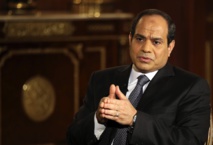 Egyptian state television showed al-Sissi welcoming families of the slain security personnel at a ceremony on the first day of the Muslim Eid al-Fitr festival that marks the end of the Islamic fasting month of Ramadan.
"The martyrs have sacrificed their lives so that 100 million Egyptians will live safely," al-Sissi said at the celebration held near a mosque in Cairo after he attended a special prayer marking the Eid.
He gave away gifts to some children of the dead security members.
"This celebration sends the message that we will never forget or abandon sons and daughters of Egypt," al-Sissi said, according to private newspaper al-Masry al-Youm.
The event comes a day after a new government was unveiled in Egypt, including two new ministers for the key portfolios of defence and interior affairs.
Egypt has seen a wave of deadly attacks since 2013 when the army, then led by al-Sissi, toppled democratically elected, but divisive, Islamist president Mohammad Morsi.
The Islamic State militia has claimed responsibility for most attacks.
In February, the army announced the start of a massive campaign against terrorism mainly in northern Sinai, a hub for extremists, and the western desert, which borders troubled Libya.