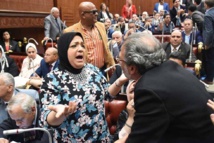 "Anyone who possesses, imports or makes bombs or explosive materials will be punished with 25 years in prison, or will be sentenced to death if the bombs and explosives are used for terrorism-related crimes," an amended provision stated.
The Egyptian penal code stipulates imprisonment for anyone who fails to report people who have acquired explosives illegally to the authorities.
However, the parliament rejected a government amendment that would have excluded the wife, husband or any other family member of the suspect from imprisonment, even if they had prior knowledge of the crimes but did not inform authorities.
Egypt has seen a surge in violence since the military ouster of the country's first democratically elected but divisive president, Mohamed Morsi, in 2013.