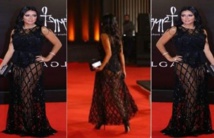 Rania Youssef, 45, provoked an outcry in conservative Egypt for attending the closing ceremony of the Cairo Film Festival this week wearing a black dress that appeared to be composed of a swimsuit-like bodice and a black see-through overlay.
A misdemeanor court will start hearing the lawsuit against Youssef on January 12, according to al-Ahram.
The case comes in response to several legal complaints accusing the actress of public decency and incitement to debauchery, the report said.
Detractors have condemned the actress and her outfits.
"She seems to have forgotten to put on clothes, or she left [for the festival] in a hurry," legislator Said Hasassein said sarcastically.
The lawmaker told private television station Al Rafideen that he would raise the issue in parliament.
Youssef has defended her garb.
"Appearing in bold dresses at international festivals like the Cairo festival is something usual," she told private newspaper al-Masri al-Youm.
"I understand people's response of astonishment, but the world is now open. Thanks to technology, everyone can see all fashion trends."
In recent months, several entertainers were prosecuted in Egypt for performing in music videos deemed immoral.
Notepad