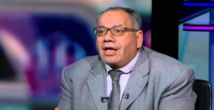 Last month, lawyer Nabih al-Wahsh said on a private television station that harassing or raping women appearing in public in ripped jeans is a "national duty."
His remarks triggered an outcry among women's rights groups who filed legal complaints against him.
Al-Wahsh is facing charges of inciting sexual assaults and spreading news that disrupts public peace, state-run newspaper al-Ahram reported online.
His trial will begin on December 2 at the State Security Misdemeanour Court in Cairo, according to the report.
In 2014, Egypt passed a law stipulating harsher punishments for sexual harassment and expediting court trials for suspects.
Conservatives in the mostly Muslim country usually blame women for wearing "revealing" clothes. However, Muslim women dressed in the full-body niqab have also said they experience harassment.