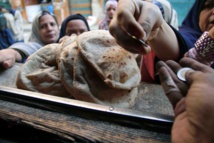 The protests followed a supply ministry decision to limit the number of subsidised loaves bakeries can sell people who do not yet have digital cards introduced under a new distribution system, Supply Minister Ali al-Meselhy said.
The new system, which the government launched in 2014, replaces paper documents, and is designed to allow stricter state control and oversight to ensure no subsidised flour is stolen by bakeries.
Protests were reported on Tuesday in the provinces of Alexandria, Kafr el-Sheikh, Minya and Assiut, with a small demonstration also taking place in Cairo, officials said, requesting anonymity because they were not authorised to speak to reporters.
In Alexandria, angry protesters gathered outside the ministry's offices.
Meselhy said at a press conference later in the day that the ministry had limited to 500 the number of loaves that could be distributed by each accredited bakery to non-digital card holders.
He said data on people still using paper documents for their subsidised bread will be collected so they can be issued with digital cards within a week.
Until then, the minister promised citizens who did not get bread on Tuesday that the problem will be resolved within 48 hours.