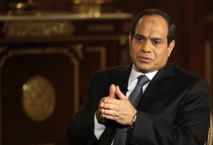 Al-Sissi's sole challenger in the polls is Moussa Mostafa, a little-known politician who has already supported the general-turned-president's bid for a second term in office.
Potentially serious opponents have dropped out of the race, or were barred from running.
The opposition has called for a boycott of the vote, terming it a "farce."
With al-Sissi's landslide win a forgone conclusion, a low voter turnout could raise doubts about the election's credibility.
Al-Sissi has repeatedly urged Egyptians to vote in large numbers, promising a fair election.
Two days before the balloting, a bomb blast killed two policemen in Alexandria, Egypt's second biggest city.
Pro-government media said Saturday's attack was aimed at intimidating Egyptians from heading to polls, and called on voters to "respond" by turning out en masse. So far, there has been no claim of responsibility for the attack.
Around 250,000 members of the security forces will deploy around 14,000 polling stations across Egypt's 27 provinces during the election due to be held for three consecutive days, media reports said.
Nearly 60 million Egyptians are eligible to vote, according to official figures.

Polls are open from 9 am (0700 GMT) to 9 pm during the three days of voting.

Final results are expected to be officially announced on April 2.
Al-Sissi came to power in 2014, a year after he led the overthrow of the country's first democratically elected but divisive Islamist president Mohammed Morsi.
In recent months, al-Sissi's popularity has suffered as a result of harsh economic reforms that have taken their toll on most Egyptians.